Air Entrainment
Once in a while, you get a glass of water and it looks cloudy; maybe milky is a better term. After a few seconds it miraculously clears up! The cloudiness is due to tiny air bubbles in the water. Like any bubble, the air rises to the top of the water and goes into the air above, clearing up the water. Cloudy water, also known as white water, is caused by air bubbles in the water. It is completely harmless. A faulty compressor at the water plant allowed the water level to drop in our tank and air to fill the tank.  We are slowly bleeding the air out of the system by using our hydrant system.  The more water you use the quicker we will get the air out of our system.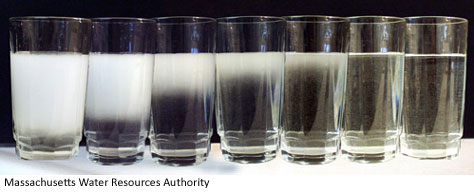 TCWSD is now offering online bill payment services through Pay Clix.  You will have the option of receiving electronic bills or regular paper bills as well.  Please go to http://www.payclix.com/tcwsd     
June 9, 2016
Taylor Coastal Water and Sewer District has two openings on its governing Board of Commissioners. These are volunteer positions.    Potential commissioners must own property within the District's boundaries must complete an application and must solemnly swear that they are a registered voter within the State of Florida. The terms of the positions begin on May 4, 2016 and end on May 3, 2020. Commission meetings are held on the 4th Tuesday of each month at the district office at 3:00 p.m. Special called meetings may also occur.
Interested parties may obtain an application from www.tcwsd.org or www.taylorcountygov.com. You may also pickup an application at the Districts office located at 18820 Beach Rd., Perry, Fl 32348 or at the Taylor County Administrative complex located at 201 E Green Street, Perry, Fl 32347. Once completed you may return the application to either of the above mentioned locations. These positions will remain open until filled. All requests will be surrendered to the Taylor County Board of County Commissioners for appointment. You may obtain further information by calling (850) 578-3043.